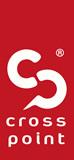 The Alka Group was established in 1994 as a greenfield investment.
Alka was the first company in Romania to produce and distribute packaged ground coffee.
Alka has since invested tens of millions of euros in technology and business development.
Alka Group's business now covers many categories, with presence all over Romania and beyond.
The company's portfolio consists of: Sweet Cakes (House Cake), Sweet Biscuits (House Biscuits), Alfers, Salty Snacks (Toortize, House Covers), Coffee (Gold Mocca and Stretto). The company is also the importer and distributor of Perfetti Van Melle products for the Chupa Chups and Mentos brands. Through its work, Alka collaborates directly and indirectly with tens of thousands of partners across the country.
Project details
« See Case Study »
Client: Alka Group
Implementation date: 2009
Field of activity: Production, Distribution, and Services
Company website: alkagroup
Crosspoint Implementation
Our competitors are powerful companies, especially international, with easy access to top WMS technologies. We have also searched for a flexible company that proposes a competitive IT solution and the know-how necessary to integrate the new solution with the existing ones. After many rounds of negotiations, I chose Crosspoint Point Point solution offered by Point Logistix.
ALKA has relied on Crosspoint in recent years, and expectations have never been deceived.
Thank you Crosspoint, thanks to Point Logistix
Project features:
Implementation of WMS Crosspoint in the Alka group started at the end of 2009 by analyzing the remodeling of logistics processes in the new WMS solution and in the already used ERP solution. Over the next few months, the solution was extended to nine other regional warehouses. Increased accuracy, required in the traceability of raw material, required that in the same year 2010 Alka Co's main warehouse be implemented.
Standard and advanced features enabled:
Order picking to manage volume controls;

Centralized preparation for direct distribution commands
Kitting for promotional packages;
Integrate with factory production delivery mode;

SSCC Integrated External Providers;
Stock optimization: advanced put-away and replenishment criteria;
Packaging Management (including CHEP pallets).
Similar projects