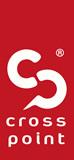 Just Master Activities is an import and distribution company with a strong presence in the FMCG market in Romania, holding top positions in the market segments in which it operates.
The company operates nationwide and has more than 2,800 outlets. It has an efficient logistics structure adapted to the flow of goods, which allows the use of modern distribution channels alongside traditional ones.
Crosspoint implementation
The decision to implement a WMS system came as a natural consequence of our desire to optimize logistics flows and to streamline the costs of the distribution service. Since the first talks with potential solution providers of this kind, Point Logistix has been highlighted by its openness in providing viable solutions, in line with the specificity and complexity of our business, and later, during the project, by including in the project good practice advice from previous projects. The benefits of the project can be highlighted, but not limited to: increased productivity, stock accuracy, storage optimization and traceability. I refer to the traceability available at logistics level of inventory and customer order stage, from placement to receipt. Considering the project's success and post-implementation collaboration, I strongly recommend Point Logistix team both for WMS Crosspoint solution and for the openness, involvement and know-how of the project team.
Project features:
The implementation of Crosspoint WMS within Just Master Activities coincided with the move of the company's logistics structure into a new warehouse. The wide variety of portfolio products as well as the differences in order size have prompted the activation of more standard and advanced features. The layout of the warehouse imposed the definition of 8 storage areas with advanced replenishment algorithms both vertically and horizontally. Required labels, packaging, and promotions led to the activation of the Kitting and Value Added Services (VAS) modules. Transparency in the flow of orders has led to the need to integrate the solutions of two couriers and a carrier. After the initial implementation, other aspects of logistics activity were integrated into WMS such as packaging management, the launch of the CHEP pallets project, the procurement and planning module for the automatic issuance of stock replenishment proposals based on the rotation history and the specific article and supplier. Main features addressed by the system:
Put-away
Replenishment
Kitting
Value Added Services
Integrating couriers and carrier
Packaging Management
Batch Picking
Check Orders
Order Picking
Building
Transportation
Quality
Supply
Normalization of operations and cost management
Similar projects