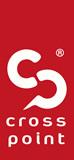 Orlando Import Export 2001 packages and sells dehydrated and candied fruits, oil products, spices, pastry and confectionery ingredients.
Established in 1994 as a greenfield investment, the company has adopted a traditional business model based on earnest and committed goals that have led to a steady development of the business and continued diversification of the product range.
Market leader in the field of dehydrated and candied fruit packaging and one of the most important oil companies in Romania, Orlando has a wide assortment in the portfolio, marketed under Orlandos (Bio, Natural Dessert, Snack, Flavor, Fancy, XL), Nutco Fresh and Oblio.
Project details
Client: Orlandos
Implementation date: 2019
Field of activity: Production
Site: Orlandos
Crosspoint implementation
The complexity of the activities, the great variety of products and suppliers, the customers with special requirements, and the need for complete traceability were our challenges to which Point Logistix responded with customized solutions ensuring the configuration of applications and modules at the business rules level.
With the deployment of the WMS solution, we have automated warehouse activity, and now we have process security and the real-time image of our operations.
Collaboration with Point Logistix has provided us with an efficient, improved inventory management that is also tailored to the specifics of the business, but with complete operational capability, shortly after implementation.
Project features:
The Crosspoint WMS project has addressed from the outset the monitoring of the entire flow of goods at Orlando Import Export. One of the challenges was to simultaneously start work in the WMS solution in all the warehouses included in the project (raw materials, packaging, auxiliaries, finished product), while migrating to a new ERP version. Ease of use, traceability to all the operations that have been done have been the strengths that have allowed a smooth migration, with the focus of the project team centered on advanced functionality on the inventory optimization area.
Standard and advanced features enabled:
Supply
Multiple deliveries based on production order planning
Transport
Consolidation
KPI
Similar projects