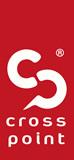 VanMoer
Van Moer offers a wide range of services in various sectors, from general cargo transport to tarpaulin trailers, to container handling, service, warehousing, special transport etc.
Van Moer Logistics has been active in Romania since 2011, and in 2013 inaugurated a logistics facility in Timisoara in VGP Park. The company was founded 25 years ago by Jo Van Moer and currently has a fleet of 240 trucks operating logistics spaces totaling over 200,000 square meters in 11 locations across Europe.
Project details
Client: Van Moer
Implementation date: 2016
Field of activity: Services
Company site: vanmoergroup
Crosspoint implementation
Coming from a company which had its own IT department and administrating their whole logistic operations with an own tailored WMS, I was a little bit skeptical when I was confronted with the WMS Crosspoint, used by Dumagas, of whom we took over the ambient logistics in Bucharest.

Where I was confronted in my former company with a lot of technical issues, all the time, we needed adjustments to the WMS, not even to mention the ongoing discussions with the IT department, and the for me, unbelievable long, suggested time frames to change or adjust things where necessary, I found in the Point Logistix team, a reliable, fast responding partner, all the time open for discussions, coming with own proposals, alternatives and/or all kind of solutions to assist and support us when and where necessary.

In the meantime, we roll out Crosspoint WMS also in our branch in Timisoara, and the intention is to also implement it in our branch in Sibiu in 2018.

Being 20 years involved with warehouses, logistics and all kind of Warehouse Management Systems, I found out that Crosspoint is one of the easiest WMS to work with, it is genius in its simplicity and flexibility, and if you combine that with the fact that the Point Logistix team is acting as a reliable and fast responding partner, our partnership with Point Logistix will only grow.
Project features:
The implementation of the Crosspoint WMS solution from Dumagas Bucharest's environment warehouse for Van Moer Logistics began by ensuring the smoothest migration of the two companies' customers. Infrastructure changes and the acquisition of full historical traceability data for selected customers put the pressure on very low time in the logistics activity.
After a smooth migration, the specifics of new customers, the pressure on new facilities and the implementation of the new Crosspoint WEB module were some of the milestones of the next period.
Expansion of Timisoara's warehouse was a new opportunity for Point Logistix to deliver in a short time a complete solution in line with the new traceability trades.
Similar projects