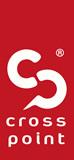 In 2007, from the desire and passion of a man who wanted to provide his clients with the experience and knowledge gained in supply chain management and customs, Vld Logistic was born, a company that offers its clients the full range of integrated logistics services and related customs services. Through the quality of the services we have managed to gain the trust and respect of our clients as a result of this work and the firm dedication in the portfolio of the company, as well as partners of all sizes that have found in Vld Logistic "Trustworthy friend".
Project details
Client: VLD Logistic
Implementation date: 2018
Field of activity: Servicii
Site: VLD Logistic
Crosspoint Implementation
As a result of the sustained development and diversification of the services offered, as well as the desire to offer our clients the most competitive information solutions, we have contacted a supplier of Warehouse Management Solutions, a supplier that proved to be a professional, both during the implementation of the project as well as in later stages. Now, almost two years after its implementation, we can say we have increased our processing capacity by about 80%. Looking back, seeing the present and looking with confidence in the future, we can thank our friends at Point Logistix for all their work and effort.
Project features:
The implementation of the workflows of any logistics operator has as its starting point the specifics of the current customers but requires a careful analysis of the possible developments of the business. This is also the case with the current implementation of the Fashion Logistics area to be correlated with the work in the electro IT area and the integration of e-fulfillment online platforms.
Standard and advanced features enabled:
3PL
Batch Picking
Identification of articles
Checking
Management Returns
Labeling
Similar projects