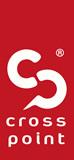 Frisbo takes over storing, processing, billing, packaging and delivering orders to your online store.
By outsourcing all or part of the operational and logistic process, Frisbo acts as an intermediary in helping companies. The merchandise reaches directly to Frisbo, and from there, it goes to the final customers. The pricing system is scalable, depending on the number of orders processed or the amount of stored products, tailored to the size of each business.
Project details
Client: Frisbo
Implementation date: 2019
Field of activity: E-fulfillment
Site: Frisbo
Crosspoint implementation
For Frisbo automation is a key element, and Point Logistix is ​​the partner that has provided us with the perfect solution for optimizing our network of accomplishments. With their help, we have streamlined workflows, have gained time and have managed to initiate relationships with new accomplishments. Communication with the Point Logistix team was always easy and productive and we had all the necessary support in real time.
Project features:
The implementation of Crosspoint WMS within the Frisbo project has gone from the requirement to easily add a logistics partner to a warehouse flow integrated with that of the Frisbo platform. The variety of types of goods as well as the speed needed to activate a new vendor led to the selection of industry best practices and the configuration of functionalities to ensure the transparency of the entire circuitry of items from reception to parcel delivery to the courier.
Standard and advanced features enabled:
API platform integration online
batch picking
Integrated check for AWB printing, invoices, warranty
3PL
Similar projects