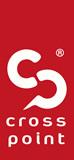 Nordic Logistic was established in 2008 and provides customers with the best solutions for storing, transporting and distributing food on three temperature categories: ambient, refrigeration, freezing.
With three warehouses in Bucharest, Bacu (near Ciorogarla) and Izvin (Timisoara), over 8,000 m2 of storage space and a total storage capacity of over 6,000 euro pallets, Nordic Logistic transports food anywhere on the Romanian territory.
Project details
Client: Nordic Logistic
Implementation date: 2018
Field of activity: Distribution
Site: Nordic Logistic
Crosspoint Implementation
Our company has searched for a flexible WMS solution and a company that has the knowledge to help us implement the WMS solution in a warehouse with 3 temperature ranges and variable weight products. Of all the solutions on the market, we chose the Point Logistix WMS solution because it covers all the existing workflows within our company, and the company's representatives have demonstrated that they have all the necessary skills to successfully complete the implementation. Implementation was very fast and problem-free, with Point Logistix providing the best quality support.
Project features:
The implementation of Crosspoint WMS within Nordic Logistic was an ideal opportunity to streamline, optimize and automate the work of the group's warehouses. In addition to the integration of the two companies' operations, the large number of SKUs in the portfolio, the management of variable weight products, multiple temperature zones have led to the inclusion of more advanced features from the preliminary stage which allowed a smooth transition in the go-live phase. The extension that followed the initial implementation has easily been done using the Nordic team's internal resources.
Standard and advanced features enabled:
3PL
Centralized picking
Pick by Zone
Group optimization and TMS integration
Management of variable weight products
Pallets Consolidation
Labeling for deliveries to Retail Platforms
Integration with scales for automatic picking
WEB module
Similar projects