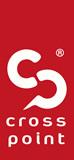 Eta2u is the leading IT systems and solutions integrator in Western Romania, a provider of IT products and services, and one of the most highly-trained IT and technical IT companies in Romania. The company has a history of over 25 years and a constantly recognized performance through annual nominations in the national charts. ETA2U solutions and services are designed to support the optimization of customer business processes and to make a decisive contribution to achieving significant cost savings while meeting the highest standards of quality.
Crosspoint implementation
We have been working with Point Logistix for more than 9 years, and changes in the company, such as deploying a new ERP, activating advanced Crosspoint suite modules, have been the steps in which our teams have teamed up to ensure a successful migration . We try to always improve logistics processes and pay more attention to stock accuracy as we handle high value items. Crosspoint was the solution by which we successfully tackled issues related to the traceability of serial numbers, as well as the significant volume of managed items. We consider the implemented project a real success.
Project features:
The implementation of Crosspoint WMS within Eta 2U has been an opportunity to bring together product-specific product management features with serial number, balancing traceability requirements with flexibility and fastness, batch and expiration items.
To manage parcels across warehouses, Crosspoint WMS Cross-Docking has been enabled.
Integration with both the initial ERP solution and the one currently used were occasions where Crosspoint proved flexible and easy to integrate.
Similar projects