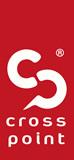 The Event
The 16th edition of the ARILOG Annual Conference took place in Bucharest, June 6-7, 2018, at Intercontinental Hotel.
The main topic of this edition was about the celebration of the United Nations centenary and intended to convey a message about the importance of education and ethical professionalism.
Success stories, case studies, industry leaders have been promoted as real models for our industry.
The program
The first day of the event was dedicated to the presentation of good practice and case studies.
The following day, participants had the opportunity to visit several logistics centers and production sites.
One of the most important locations, at least from our point of view, was Cris-Tim. With the goodwill of Mr. Radu Timis – President of Cris-Tim Group, we had the opportunity to present the implementation of our suite of solutions: Crosspoint WWMS.
Crosspoint WMS
Testimonial Radu TIMIŞ
President,
Cris-Tim Group
WMS deployment motivation
post-implementation results
direct and indirect benefits
return on investment
relationship with the implementation team
Feedback on using Crosspoint