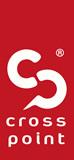 F64 is the largest photo-video store concept in Southeast Europe, where you can find the latest news from the industry, but also the most diverse range of equipment at the highest quality. Photography, however, is not just about the equipment, so F64 creates dedicated content on the blog or YouTube channel, organizes workshops, events, courses and exhibitions hoping to unite a strong community through creation and education.
Project details
Client: F64
Implementation date: 2018
Field of activity: Distribution, Retail
Site: F64
Crosspoint implementation
Project features:
The solution required to be implemented within F64 was the result of a careful analysis of the company's business, both in the logistics, procurement, retail and e-commerce area. The difficulty of the project was the simultaneous migration with Crosspoint WMS implementation of the e-commerce platform selected by the company. This led to a multi-step project plan, conditional on the timeframe assumed by both partners. Adaptability, but above all the speed of response to challenges along the way, have been key elements that have ensured successful migration. Deploying central, stock and store depots could be accomplished by keeping each individual's execution specificity and the associated order typology.
Standard and advanced features enabled:
Batch Picking
Milking
Checking integrated courier, invoice and warranty certificate
Consignment
E-Commerce platform platforms, ERP
Connector markets (eg: eMAG Marketplace)
Feed provider
Supply
RMA
Similar projects