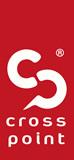 The company has been present in Romania since 2000, has a total of 5,800 employees and has eight production units: Jimbolia (metal fittings and mechanisms), Timisoara (car covers), Craiova (car seats for Ford ), Poiana Lacului (polyurethane foam), Bradu (car seats for Dacia and metal fittings), Ploiesti (upholstery), Pitesti (upholstery).
ADIENT broke away from Johnson Controls in autumn 2016 and celebrates 1 year as a standalone entity. Adient is a global leader in car seat production. The company has 75,000 employees in 230 factories located in 33 countries around the world.
Project details
Client: Adient
Implementation date: 2014
Field of activity: Production
Company site: Adient
Crosspoint implementation
Crosspoint was for us the answer to an imperative and stringent requirement of one of our most important customers, one of the world's largest automobile manufacturers. Additionally, Point Logistix's software solution has improved some of our processes, and more than that has been recognized in our multinational, being implemented in two other factories. It should be noted that the support granted during the development, implementation and post-implementation period was professional and unconditional.
Project features:
Crosspoint suite solutions implemented within the Adient group (originally Johnson Controls) cover multiple functionalities. From the QM Crosspoint EoL (End of Line Quality Management) solution that enabled the automation of quality engineers' work and the complete traceability of nonconformities in the production and packaging reporting flow, to Crosspoint WMS management of pre-series items, applications enabled the Adient key points to increase the value of performance indicators and to successfully audit end-users in a automotive industry based on accuracy, quality and speed.
Similar projects