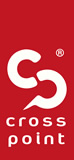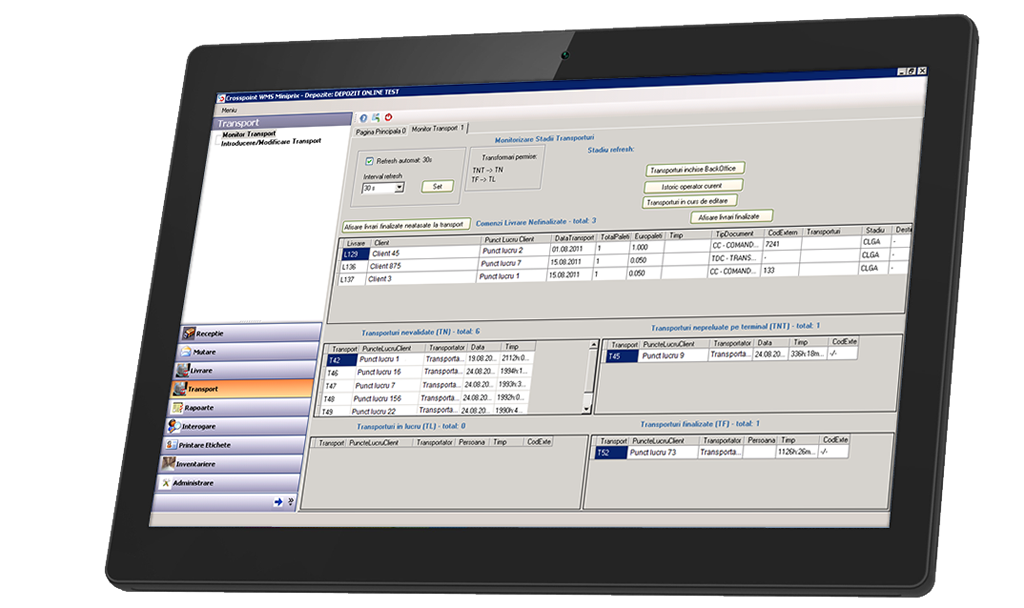 Crosspoint WMS – Full customized solution
What is Crosspoint WMS
Crosspoint WMS is a customized SCM (Supply Chain Management) software that tracks and optimizes warehouse deployments, traceability of merchandise and covers all related areas. The solution suite is the Warehouse Management System (WMS) application, part of an integrated IT system, to manage the warehouse, from reception to shipment to customers. The WMS solution tracks the collection, receipt, inventory, storage and shipping of goods, providing real-time information.
Crosspoint is specifically developed to optimize logistics and IT processes in warehouses and production facilities. It has direct applicability in the logistics area: warehouse management, production traceability, quality management, fleet management, proof of delivery (POD) and transport.
Crosspoint is a customized solution, a specialized tool designed to solve specific problems. Crosspoint is perfectly compatible with all the complementary systems available: ERP, SFA, TMS, CRM, BI, VMS – Volume Management Systems, weighing systems, conveyors, production lines, etc.
What Crosspoint WMS does
Crosspoint provides a complete view of the warehouse operations. It is designed to optimize and automate data collection operations.
Crosspoint is a warehouse management tool, a system able to track inventory by selected criteria: holder, vendor, product, area, location, etc. The system signals to overridden alert parameters for designated users.
Crosspoint organizes logistics activity and requires tracking of rules defined by administrator users.
Exceptions require approval of higher user levels and maintain traceability of their frequency.
Crosspoint allows allocation and monitoring of warehouse resource activity.
Crosspoint maintains historical traceability data that is used in analysis and reporting modules, providing a transparent view of performance indicators and their variation.
Who can use Crosspoint WMS
Crosspoint is intended for companies that want to optimize and monitor logistics or production activities.
Crosspoint is designed to respond dynamically to the needs of companies that operate in the following areas:
distribution;
logistics operators;
services;
retail;
production (discreet and streamlined).
Crosspoint integrates with the existing IT systems in the company according to the needs of each project, with the ability to be maintained completely separate.
Data captured through specific processes can be transferred in real-time to systems that manage inventory from a financial perspective.
Traceability and stock management are maintained from the perspective of actual operations rather than scriptural pursuits.
Crosspoint is for companies that want better control and a way of defining logistics rules that relate to their relationship with suppliers and their customers. The defined set of rules is easily configurable over time and provides certainty about elevated performance indicators.
Do you want more information?
Give us your request and one of our sales representatives will contact you as soon as possible.
We have decided to implement a WMS and an integrated order management module to one of our major customers. Performance indicators are impressive. With the Crosspoint WMS suite, we've improved most of our warehouse operations. I consider this project a great success and I highly recommend the Point Logistix team for the quality of the product.
Our competitors are powerful companies, especially international ones, that have easy access to the top WMS technologies. We also looked for a flexible company, which proposes a competitive IT solution and has the necessary know-how to integrate the new solution with the existing ones. After many rounds of negotiations I chose the Crosspoint solution offered by Point Logistix. ALKA has been based on Crosspoint in recent years and expectations have never been deceived. Thank you Crosspoint, thank you Point Logistix.
Point Logistix has very well understood our business specifics and internal procedures, which has significantly reduced implementation time. After optimizing internal logistics, we decided to extend the initial application by developing additional modules. We recommend this team for professionalism and ability to overcome deadlines, even when these are very tight.
Crosspoint – a modular solution
The Crosspoint suite is designed to automate management of customer warehouse operations.
Terminals continuously communicate with the database via the wireless network.
Crosspoint allows you to monitor, target and improve logistics flows at a number unlimited storage locations, each endowed with a manageable map in the system, and a set of rules assigned to each stream.
The application structure is modular. Included are 500 basic features that can be enabled the specific nature of the beneficiary's activity. They can be tailored to specific requirements, but their integration into existing streams minimizes the time spent on customizations and acceptance tests.
For companies with complex activities or wanting to improve certain areas of logistics, optional suite modules are available.
Although optional, some of these can be identified as critical to the project and are the goal of initial implementation, others are mature in use of the suite and can be enabled at any time later.
Within these modules, other 400 features make it possible to implement multiple scenarios.
What is WMS?
A
WMS
(Warehouse Management System) has the role of controlling the movement of goods within warehouses.
WMS
solutions automate and optimize warehouse activities: reception, storage, collection, packaging, inventory, replenishment and shipping. Provides real-time information on stock status and storage space.
WMS is a software application?
A WMS solution consists of two components: software (the actual application) and hardware (servers, mobile scanning devices, or code printers bars).
Crosspoint is a WMS software?
Crosspoint is a
suite of customized SCM software solutions
(Supply Chain Management). The solution suite has the WMS Application WMS (WMS) application, part of an integrated IT system, to manage the merchandise in the warehouse, from reception to shipment to customers. The WMS solution tracks the collection, receipt, inventory, storage and shipping of goods, providing real-time information.
Crosspoint increases user productivity and optimizes logistics, production and IT processes. Significantly reduces costs by eliminating excessive stock, reducing stockpile, and low-performing products.
What features include Crosspoint WMS?
The application structure is modular. The core modules cover the logistical flows necessary for the management of any management.
There are over 500 functionalities
Do I have to quit the existing software?
Crosspoint is designed to be integrated. Any software package that brings benefits is kept and integrated. Not only is it not eliminated, but is maximized by direct connection to other systems.
What is the implementation time?
The average implementation time is 3 months. We must keep in mind the complexity of the project, the level of integration and the degree of personalization of the modules. There is also a "fine tuning" stage where the production flow, the functionality and the operators are trained. These aspects can significantly affect implementation time.
Is there a support service?
Collaboration does not end at the teaching / reception stage. Our service and support teams are available to you on a subscription or punctual basis as an on-demand intervention. Crosspoint is a dynamic system that grows with your business.