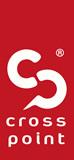 Dumagas Transport is among the top Romanian carriers and has the chance to consolidate itself as one of the biggest regional players. He is part of the Dumagas group, alongside other companies such as Dumatrucks, Asirex, Dumagas LPG and T.I.D. Oltenia.
The company has developed on the basis of strictly defined and defined principles and values that focus on safety, quality, dynamism, flexibility and performance.
Project details
Client: Dumagas Transport
Implementation date: 2008
Field of activity: Services
Company site: dumagas
Crosspoint implementation
Crosspoint is a WMS solution that meets all your needs in managing a service provider's warehouse. It is easy to use, it can be customized not only at the beginning but also after significant changes occur in the warehouse or customers with complex logistic requirements.

Besides being an efficient warehouse software solution, the support is in line with expectations and our 9-year partnership with the POINT LOGISTIX team is a confirmation of the above.

We implemented the Crosspoint core solution as well as many advanced modules as we needed them to cover less automated logistics flows.
Project features:
Implementing Crosspoint WMS for Dumagas Transport & amp; Logistics in 2008, was one of the most complex implementations made by the Point Logistix team. The growing business of Dumagas Transport & amp; Logistics has chosen to choose a solution that can quickly respond to business requirements and to cover through standard functionalities a large part of the operations already carried out.
The solution embraced both customer-specific requirements for both ambient and chilled and frozen goods. The solution was a unitary centralized management that enabled the activation of advanced features such as:
3PL
Billing warehousing and shipping operations
Cost Management
Document Management
Multi-ERP Integration
Manageable Product Management
Route optimization and TMS integration for transport billing
Packaging Management
Value Added Services (VAS)
Strengthen Palettes
Flux HUB
Similar projects