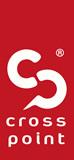 Grup Sapte is a specialized agency of BTL and Merchandising having as a medium of manifestation the shop primarily.
With 10 years experience in the Romanian market, Grup Sapte is a dynamic and customer oriented agency.
For 10 years, it has been delivering promotions by offering integrated services, thus helping to successfully promote its customers' brands and their impeccable image in stores.
Project details
Client: Grup Sapte
Implementation date: 2019
Field of activity: Services
Company site: Grup Sapte
Crosspoint implementation
Project features:
The adaptation of the Crosspoint WMS solution and a careful selection of the necessary modules were key factors in achieving the automation of the critical processes in Grup Șapte logistics. The Back Office component had to be integrated both with the operational area of the central warehouse, but also adapted as a coordination tool at the campaign level for the Project Managers team and regional warehouse coordinators for the purpose of recording consumption for the area teams.
Standard and advanced features enabled:
Multi-owner
Courier integration
Multi-warehouse
Campaign management
Traceability of batches
Capture photos of articles
Similar projects