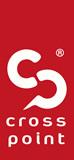 Barlad bearing plant is one of the largest bearing manufacturers in Romania. The company produces a wide range of bearings in over 13,000 constructive variants for both the domestic market and the foreign market. Bearing exports represent over 85% of total sales volume.
Crosspoint implementation
URB being a big company, management was quite cautious about the ability to implement the WMS system by Point Logistix – a young company from our perspective. I can say that our expectations have been greatly overtaken by this team of professionals who know what they are doing. Now we have an efficient software that helps us have greater control over the sales process, bringing a real value to our business. I also highly recommend Crosspoint solution and Point Logistix team.
Project features:
Since its initial implementation, Crosspoint WMS has been aiming to automate all logistics processes in the Barry URB factory and warehouse of finished products.
Accurate batch tracking, optimal run time of operations is combined with strict adherence to customer packaging requirements and group-level transport.
Similar projects