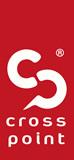 With over 10 years of experience in logistics and operations, recognized and awarded by national and European profile associations, the QeOPS team comes to meet its customers with personalized logistics solutions designed to contribute to the correct and harmonious development of any business type – online or offline, B2B or B2C – regardless of the industry.
Crosspoint implementation
Point Logistix's Crosspoint WMS solution has proven to be the perfect combination of stability and flexibility, key elements in 3PL. From developments tailored to the specifics of customers to the rigor with which stock movements are handled, Crosspoint has been and is the right choice. During both the project implementation and the go-live, I have benefited from the know-how and support of a team of professionals I have worked with for over 6 years and whom I strongly recommend.
Project features:
The variety of process and commodity types given by Qeops's logistics customer diversity has imposed concurrent implementation of different storage, storage, picking, inventory and upload strategies. The easy and especially fast integration with the mixed IT solutions used were powerful tools that Qeops found through Crosspoint to get high performance indicators and transparency between IT systems used internally and by customers. Some of the functionalities of the project are:
Reception with identifying, possible tagging and validation versus existing content (image description)
Cycle inventory
Batch Picking
Order Picking
Batch and serial number management
Return Logistics
Courier integration
3PL
Value Added Services (VAS)
Crosspoint WMS
Testimonial Paul COPIL
Founder & amp; CEO, QeOPS
WMS deployment motivation
post-implementation results
direct and indirect benefits
return on investment
relationship with the implementation team
Feedback on using Crosspoint
Similar projects