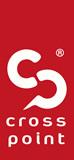 In Romania, YALCO represents and distributes nationally the products of the most important producers in the world. The company is organized into distinct divisions: House and Garden, Technician, Horeca, each with dedicated sales teams and back office support teams. Distributes nationally in the Cash & amp; Carry (Metro, Selgros), Hypermarkets (Auchan, Carrefour, Cora, Real); DIY stores (Ambient, Baumax, Dedeman, Hornbach, Obi, Praktiker) and through local partners with specialty stores in the most important cities in the country.
Project details
Client: YALCO
Implementation date: 2013
Field of activity: Distribution, Retail, Services
Site: yalco
Crosspoint implementation
The pressure of the market to offer increasingly diversified services and a very short lead time, made us go to a customized logistics solution for each type of operation performed within the warehouse.

Crosspoint has helped us in the optimal organization of processes and resources, in optimizing the operations that take place in the warehouse, such as the flow of receipts and deliveries or the inventory of products, the real-time monitoring of the operations in the logistics chain and beyond. The solution demonstrates its efficiency every day, being a truly efficient tool for managing our warehouse.

The Crosspoint application has a friendly interface, ease of querying the database, ease of use and has an exceptional team behind it. One of the strengths of Point Logistix team is to provide a complete package of solutions and consulting and implementation services.

I warmly recommend a partnership with this team, both for the WMS application, as well as for professionalism and quality services.
Project features:
The Crosspoint WMS Yalco project was one of the fastest implementations of the WMS solution with a deadline required for changes in the company's business. The short time did not reduce the targeted performance indicators or the multitude of functionalities that turned out to be necessary during the analysis period.
The relocation of Yalco's logistics center in 2016 as well as the extension of the activity to the area of the service providers were new occasions where optional modules available in the Crosspoint suite were considered necessary and aimed at successful upgrades.
Among the implemented functionalities we mention:
3PL
Stock optimization
KPIs
Kitting
Similar projects