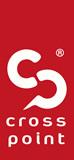 Dentstore has established itself as one of the leading distributors of dental materials and equipment in Romania.
Our company takes into account the needs of our customers and aims to offer them the best quality services:
Import and trade of consumables and equipment for dental practices as well as dental laboratories;
Technical assistance and advice for all products marketed;
Authorized service and guarantee for dental equipment.
Project details
Client: Dentstore
Implementation date: 2019
Field of activity: Distribution, Retail
Site: Dentstore
Crosspoint implementation
Project features:
The implementation of Crosspoint WMS within Dentstore has coincided with moving the business into a new logistics center. The storage typology (mezzanine picking platform) as well as the integration of a conveyor solution had to be available from the outset in the new system implemented to ensure successful migration. In addition to put-away complex algorithms, picking strategies were the ones that required real-time system decisions to ensure task balancing, handling exceptions. Integration of courier solutions ensured a speed in the check area of ​​commands.
Standard and advanced features enabled:
3PL
Curier integration
Conveyor integration
Batch Picking
Centralizing Orders
Put-away advanced
Similar projects