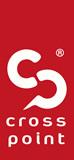 Duvenbeck Group is an international provider of complete logistics services. For more than eight decades, the family company has inspired the trust of its customers with its unmistakable culture, including major brands in the automotive industry, plastics industry and agricultural machinery industry. Our logistics services portfolio is as comprehensive as our customers' requirements. These services range from conceptual development, freight transport and storage logistics.
Project details
Client: Duvenbeck Logistik
Implementation date: 2019
Field of activity: Servicii
Site: Duvenbeck
Crosspoint implementation
The need for a solution with specific functionalities to cover and meet the requirements of our customers has led to the collaboration with the Point Logistix group and the implementation of WMS Crosspoint, respectively. With the development of logistics projects, we have benefited from the expertise of our implementation team, bringing together the system to the smallest details for our benefit and our customers'. Optimizing costs and securing logistics flows for current projects give us the confidence that we can jointly develop new solutions for our customers, thus also opening up to customers outside the automotive industry. This trust comes as a result of the flexibility and adaptability that both the implementation team and the system itself have demonstrated.
Claudiu Cîrstoveanu
Purchasing / Sales
Duvenbeck Logistik
Vlad Cristolovean
Project Manager
Duvenbeck Logistik
Project features:
Integrating one of Duvenbeck Logistics' customers has led to an accelerated pace of deployment of the implemented project. The project team, however, assured both sides that both advanced functionalities and industry best practices are integrated into the initial solution to ensure a high standard of service. Finally, the solution achieved the target accuracy of over 99.9% and the checkpoints and alarms in the system ensured the resolution of the exceptions as soon as they were signaled.
Standard and advanced features enabled:
3PL
WEB
Packaging Management
Put-away with advanced rules
Loading
Quick inventory
Check Master-Data at Receiving
Similar projects