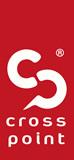 Zenobia.ro is an online store launched on the vertical Beauty & Cosmetics that aims to become a reference store for the beauty and personal care industry.
Zenobia offers over 10,000 make-up, care and relaxation products, as well as accessories.
Project details
Client: Zenobia Cosmetic
Implementation date: 2018
Field of activity: Retail Online
Company site: Zenobia
Crosspoint implementation
Project features:
The implementation of Crosspoint WMS for Zenobia Cosmetic represented a need generated by two major challenges: the fast and optimal execution of orders resulting from a varied portfolio (over 10,000 SKUs in stock) and the need for an easy integration tool for the major components of any e-Commerce platform needs (article creation flow, stock management and price at SKU level and delivery flow integration via courier and invoicing via ERP).
The main functionalities implemented include:
e-Commerce platform integration
ERP integration
Batch Picking
Picking on the Zone
Put-away
Stock optimization
Integrated verification with courier solutions
Order status traceability
Similar projects