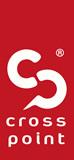 Kvantum Sport SRL is a distributor of Under Armour in Romania, Bulgaria, Croatia and Slovenia. Under Armour is one of the world's leading sports equipment manufacturers and is among the top sports lovers' preferences in the region. The company Kvantum Sport has developed in record time a major retail network in the region and currently owns 10 Under Armour stores and a outlet.
Project details
Client: Kvantum Sport
Implementation date: 2018
Field of activity: Distribution
Site: –
Crosspoint implementation
As a newborn company on the Romanian market, we have faced thousands of problems. Crosspoint WMS implemented by Point Logistix helped us optimize logistic workflows much faster than we expected. I recommend Point Logistix for professionalism and for the ease with which they find solutions to any problem.
Project features:
The Crosspoint WMS functionalities specific to Fashion logistics have been from the very beginning of the project essential tools for setting up best practice-based workflows.
Rapid integration with the ERP system and specific requirements were constraints easily accommodated by the Crosspoint implementation.
Standard and advanced features enabled:
Batch Picking
Break Bulk
Cross Docking
Labeling articles
SSCC
Packing List
Returns management
Similar projects