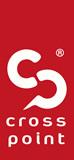 Mr. Bricolage was brought to the local market in 2006 by Brico Expert as a DIY retailer, a dynamic segment of the construction materials distribution market. Brico Expert was set up in partnership with the French retailer Mr. Bricolage, through which the Romanian shops operate.
The first unit was opened at the end of 2006 in Bucharest, following investments of 7 million euros.
Project details
Client: Mr. Bricolage
Implementation date: 2012
Activity domain: Retail
Company site: mrbricolage
Crosspoint implementation
After a 5-year collaboration with Point Logistix team, I can say with conviction about their solution – Crosspoint, that it has everything it takes to meet a customer with high needs, requirements and expectations. The software is characterized by easy use, intuitive interface, scalability and robustness. Interfacing with the SAP ERP system was easy and stable. Last but not least, I want to emphasize that the Point Logistix team has proved to be an excellent partner both during implementation and later on – throughout the collaboration period.
Project features:
The dynamics and size of the nomenclatures managed by a DIY were some of the challenges Crosspoint WMS, Mr. Bricolage. The integration of the initial ERP solution used in the company and its upgrade over time have highlighted the scalability of the WMS solution to adapt to completely different technologies.
Similar projects