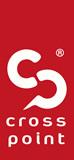 Eltra Logis was founded in 2006, with a year-on-year upward trend, a company created and specialized in the fashion industry.
The company's mission is to provide high-quality and efficient services, an objective for which the entire team contributes.
Project details
Client: Eltra Logis
Implementation date: 2019
Field of activity: Logistic Operator
Company site: Eltra Logis
Crosspoint implementation
Project features:
The activity of Cross-Docking and in general logistics operator of Eltra Logis has led to the selection of a Warehouse Management solution that can be adapted to the specific of the business.
Standard and advanced features enabled:
3PL
WEB
Cross Docking
Value Added Services
Similar projects