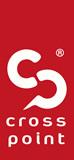 AutoZone was established in 2002 and has as its main business the sale of tires and rims and wheel service.
The tire stock varies by season between 25,000 and 50,000 tires
The main logistics center is located in Bucharest but has regional centers and warehouses in Brăila, Constanţa and Cluj.
The range of services offered in the AutoZone network includes: tire fitting, wheel balancing, steering adjustment, nitrogen pressurization, vulcanization services – feathers, storage, tire management and logistics tires, Hotel Tire service, rim straightening, ITP, oil change and filter, A / C diagnosis and Freon completion, brake pads exchange, mobile service.
Project details
Client: Autozone
Implementation date: 2008
Field of activity: Services
Company site: anvelopa
Crosspoint implementation
The need to streamline our business and meet the demands of our key customers has prompted us to look for a flexible and easy-to-use WMS solution. Crosspoint has proven to be the right choice. The nearly ten years of this collaboration confirms that POINT LOGISTIX is proving to be a trusted partner that easily adapts to new requirements and provides all the support necessary to implement them or to solve other problems that may arise in daily work.
Project features:
The Autozone-Crosspoint WMS project consisted in customizing a standard service provider flow by implementing the standard 3PL module and the 3PL module for the hotel and auto service industry where some stock attributes are important (dot, wear , speed indicators, etc.), and the consumption of materials is integrated with the process of fitting or taking into custody of the tires.
The implementation of an on-line platform offered through the Crosspoint WMS WEB module has allowed the solution to be expanded to both mobile-based and partner locations with a complete traceability of stock movements nationwide.
Similar projects